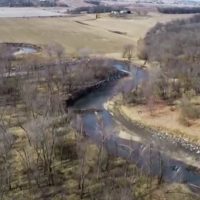 The video starts at the confluence of the English River and the Iowa River and runs west toward Grinnell.
Mark Kennett, English River WMA board member and of Kennett Ag Services, recently invited us to traverse the meandering English River by air.
Special thanks to pilot Norm Robbins with Iowa Helicopter for the ride!
English River Watershed Flyover 2017 from English River Watershed on Vimeo.